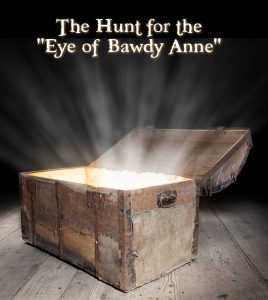 Come and help us find the "Eye of Bawdy Anne" a rare Gem that was once the showpiece of John Lafitte's treasure horde. Find it, Turn it in and receive the Reward of $300 in gold coins.
It is rumored that a famous pirate buried treasure, somewhere within what is/was known as Cedar Key.
A few pieces are said to remain
Purchase the first clue for $20 at the Information Booth in City Park. You can start when the festival opens in the park, Friday afternoon. The first clue leads you to the second clue which leads you to the next and so on, until you find all the clues.
The clues help you find a map, the map will lead you to the "Eye of Bawdy Anne".
This is a two day treasure hunt, it starts Friday and you can only find the first three clues on Friday, then the rest of the clues, on Saturday. Now, you can start Saturday and do the whole thing as well, but you will be behind those that started Friday.
Are you smarter than John Lafitte? Can you find the treasure before the other pirates?
If you find the "Eye of Bawdy Anne" bring it to the info booth before the festival closes for the evening in the park on Saturday and claim your $300 in Gold Coins
In case more than one person finds it at once, the treasure will be split evenly between the finders, as any good Pirate crew would do.