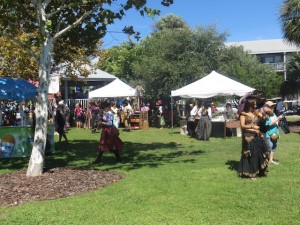 News Alert: Due to a scheduling foul-up, we've lost the use of the City Park on Saturday.  Consequently, all vendors will be located along 2nd street (the street next to the park).  See map below…

We shall have a wide variety of rogues for Thieves Row once again this year .  The 2018 Thieves' Row will be open on the following schedule:
2018 Thieves' Row Hours
Friday, Nov. 30        12:00pm − 5:00pm
Saturday, Dec. 1     10:00am − 5:00pm
Sunday, Dec. 2       10:00am − 4:00pm
Cedar Key Pirate Invasion Weekend is open to the public and free of charge.  The entire town of Cedar Key and all visiting tourists are free to attend the festival as often as they wish.  This year we anticipate between 6,000 and 10,000 attendees, so there will be plenty of traffic through the vendor space all 3 days.
If you would like to be considered for space in Thieves' Row just visit our Pirate Vendor Information page.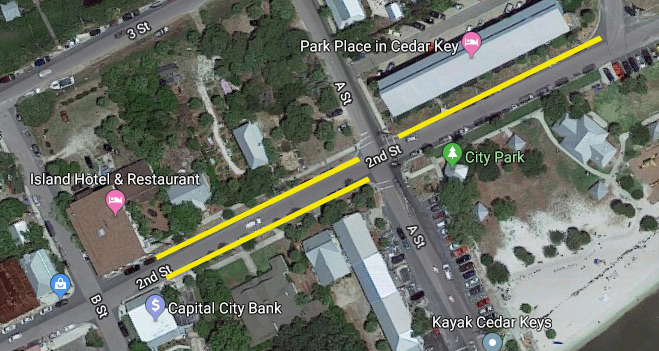 Welcome Back!
The following fine merchants are returning this year… Huzzah! (click the links for more info)
Another Way, Inc. – Educational/informational booth on Domestic and Sexual Violence. Free Water bottles, sunglasses, sunscreen, cell phone holders, temporary tattoos, and other promotional items will be provided.
Closeout King – Pirate Skull rings, Chains & Bracelets, Pirate t-shirts, ladies sundresses and handbags
Dark Diamond Damascus XIII – Handmade Damascus Knives, make your own charm bracelets and necklaces, other jewelry and gemstones.
Gypsie Moon – Henna Body Art,Pirate Costuming and accessories,flower and feather hair clips,jewelry
The Jackyl's Horde – Custom leatherwork, all leather pirate accessories, leather bags, mug clips, leather wrapped mugs, belts, skirt hikes, pouches, hats.
Let's Pretend – Pirate clothes from New Born to 4XL
Mr. Grill – Gyro, Cheese Steak, Sausage, BBQ shrimp, Fries, Corn Dogs, Nachos
Pirate Fashions – Wide range of pirate and wench clothing, accessories, and weapons.
Sherry Berry Lemonade – Fresh squeezed lemonade and strawberry lemonade made with real strawberry puree.
Turner Family Honey and Bees – Raw honey and honey products
…more vendors being signed up now…
Aaaaand Introducing –
Exciting new merchants in this year's lineup:
Bad Ass Cigars – Private label hand rolled cigars and many rum flavored cigars.
Blue Marble Concepts – Hand made ice chillers for beer bottles cans and wine/rum bottles. Conch shell speakers for cell phones. misc related accessories
Feathered Reptile – Pirate, steampunk, and some goth accessories. Specializing in feathered hair pieces, feathered and beaded hair clips, and chain-mail jewelry.
Grey Ghost Toppers – Quality steampunk pirate hats
Gypsy's Mystical Caravan – Gypsy vardo selling tarot decks, pendulums, quartz crystals and stones. metal circlets, wire wrap jewelry, bells, belts and pouches, cloaks and tote bags and wooden celtic, pirate and puzzle boxes.
Hickory Arms, LLC – Hand crafted hickory wood practice swords for stage combat, historical reenactment, cosplay, and Eastern and Western martial arts. Our Hero Academy collection includes heirloom quality wooden swords and other adventure collectibles scaled down for kids.
Jackdaw's Landing – Replica non-firing flintlock pistols of that era, swords, handmade leather holsters, pirate hats, handmade hair beads,pirate skirts, hand knitted bottles, fox tails, parasols and misc piratical jewelry for your pirate costuming needs
Jamaica Jane – Clothing renaissance through 1800's men, women, children, pirate hats & mini Hats, fans, misc. jewelry,piratical items, all handcrafted. Some manufactured jewelry.
Mr. Goodstuff Kettle Corn – Kettle Corn and flavored kettle corn.
Lady Barbara – ladies' and mens' clothing and accessories
Lemon Squeezers – Iced Tea, Half n half, Flavored Iced Coffee, Frozen Coffee, Smoothies, Funnel Cakes, Deep Fried Oreos, Smoked Turkey Legs
Over the Top Parasols and more – Pirate and styling parasols, and various accessories
A Pirate's Life – "A Pirate's Life in the Golden Age of Piracy." This is a definitive work of nonfiction history of the origin of pirates from the years 1625-1722. Unique among other similar works, this book tells their stories accurately and in chronological order, weaving the history of Europe into their actions.
Pyrate Apparel – Ahoy there, we are a food booth operating from a castle. Gyros, Fries, Pretzels, Dragon Balls…
Shiver Me Pictures – Pirate-themed photo booth, with all props provided.  Photos emailed to you when finished.  A share of the proceeds will go back to the Cedar Key Pirate Festival for Cayla's Coats.
The Sweet Side Candy Co. – 60 flavors of fudge, 24 flavors of Taffy, and 18 flavors of Licorice
WhiteBeard's Ranch – Pirate/Nautical candles and soaps, Pirate banners and garden flags, kids Pirate toys and clothes, barrels
…more vendors being signed up now…