Thieves' Row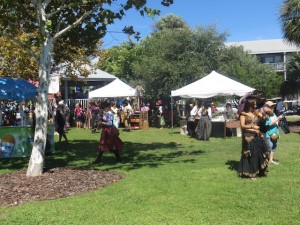 We shall have more space for Thieves Row once again this year – look for their booths and tents arranged in the City Park (see the map).  The 2017 Thieves' Row will be open on the following schedule:
2017 Thieves' Row Hours
Friday, Dec. 1         12:00pm − 6:00pm
Saturday, Dec. 2     10:00am − 7:00pm
Sunday, Dec. 3       10:00am − 4:00pm
Cedar Key Pirate Invasion Weekend is open to the public and free of charge.  The entire town of Cedar Key and all visiting tourists are free to attend the festival as often as they wish.  This year we anticipate between 6,000 and 10,000 attendees, so there will be plenty of traffic through the park all 3 days.
Huzzah!  We've sold out all our vendor spaces!  Thanks to our loyal vendors and the new recruits, we're looking forward to a great festival!
Welcome Back!
The following fine merchants are returning this year… Huzzah! (click the links for more info)
Captain's Closet – Millinery works (Hats) Plus Size Garb and a wee bit of leather. Please see my Facebook for my crafts.
Cedar Key Sharks – Hamburgers and funnel cakes
Closeout King – Pirate Skull rings, Chains & Bracelets, Pirate t-shirts, ladies sundresses and handbags
Dark Diamond Damascus XIII – Handmade Damascus Knives, make your own charm bracelets and necklaces, other jewelry and gemstones.
The Dragons Bazaar – Fantasy-themed artwork, 3D pieces, metal jewelry, wood work, glass & clay work.
Dredmor's Plunder – leather belts, baldrics, bags, bootstraps, crowns, bracers, cuffs, pistol holsters, leg holsters, sword hangers, mug wraps, flask wraps, skirt hikes, mug straps, notebooks, accessories
Gypsy Blue Trading/Dogfish Leathers – Hand crafted Piratical leather items, nautical brass compass, spy glass, bowsain whistles, etc.
Gypsie Moon – Henna Body Art,Pirate Costuming and accessories,flower and feather hair clips,jewelry
HMS Weazel Teeth's Bib & Tucker – Embroidered pirate garb
The Jackyl's Horde – Custom leatherwork, all leather pirate accessories, leather bags, mug clips, leather wrapped mugs, belts, skirt hikes, pouches, hats.
MaddogSam Pirate Craft – Hand crafted Leather items, pirate accessories, including weapons, hand sewn booty bags, toys for lil' pirates.
Mr. Monty's Toy Emporium – Historically accurate toys, games, and dolls.
Nostalgic Soda of Bronson – Homemade soft drinks and SnoCones (expanded presence this year!)
Pirate Fashions – Wide range of pirate and wench clothing, accessories, and weapons.
Sandra Nader Jewelry – We make handmade, one of a kind, ocean jewelry with semi-precious stones fresh water pearl and Australian crystal and all of our pendents are hand carved.
Sherry Berry Lemonade – Fresh squeezed lemonade and strawberry lemonade made with real strawberry puree.
Tin Can Tinkers Designs – Pirate wear accessories, cool pirate hats, & jewelry
Turner Family Honey and Bees – Raw honey and honey products
Aaaaand Introducing –
Exciting new merchants in this year's lineup:
Another Way, Inc. – Educational/informational booth on Domestic and Sexual Violence. Free Water bottles, sunglasses, sunscreen, cell phone holders, temporary tattoos, and other promotional items will be provided. 2016 Harley Davidson Softail Breakout will be present for our raffle happening in December. All proceeds go to Another Way.
Below Deck – Wood swords, shields, and pirate signs.
Blooms 4 You – hand crafted, brilliantly colored wooden roses.
Buckets of Fun – Featuring our "The Fishing for Treasure pond." and "Panning for Treasure" buckets. We will also offer witty pirate themed buttons, Wooden Swords, and Make your own Message in a bottle.
Cedar Key Cub Scout Pack 114 – Pirate masks and raffle
Cedar Key Scrubs – Local organic soap made with all natural goats milk, and other raw ingredients.
Cheerabowlies Productions – Hand-crafted items, wall clocks, wind chimes, candles, wooden key chains, personalized bracelets, cannonball catapult toys and handmade pirate trinkets.
Christina's Photography – Dress up like pirate's and have photo's taken with pirate ship back ground costumes ava sizes men women and some youth costumes
Grey Ghost Toppers – Quality steampunk pirate hats, parasols and jewelry from Over The Top Parasols.
The Kraken Collection – Home decor and furnishing made from iron pipe, wood, leather, and cloth. Lamps, candelabras, bookends, waterfalls, furniture, etc.
LaurieL Jewelry – Wearable handcrafted gemstone, crystal and stoneware jewelry.
Let's Pretend – Pirate clothes from New Born to 4XL
Maui Wowi – Fresh made fruit Smoothies in different flavors and frozen coffee frappes
Mr. Grill – Gyro, Cheese Steak, Sausage, BBQ shrimp, Fries, Corn Dogs, Nachos
One Stop Hats – Hats & Hip Klips, Crushable/Packable and UV 50+ protected, Women's Raffia Sun Hats, both Full, Half Hat & Visors, and Fedora's
Sandsations – Kids' Sand art booth. 27 different colors and a large variety of glass corked bottles. Kids make their own art and get to take it home!
Saltbox Soap Company – Handmade Soaps and Scrubs
Sherry's Silver-Wear Jewelry – Vintage silverware upcycled leather and copper wearable pieces of art
Twisterinas Balloons – Facepainting, balloons, glitter tattoos.
Unlimited Imagination Corp – Conch Salads, Peruvian Ceviches, Conch Fritters