CKPF 5th Anniversary Medallion
Ahoy Mates!   We are pleased to announce ~ The Official 2017 Cedar Key Pirate Invasion 5th Anniversary Commemorative Medallion ~ at a reduced price during this Pre-Invasion Order Sale!!!
Hand Crafted Fine Antiqued Pewter Pin or Medallion/Pendant
Designed and Crafted by Pewter Pirate.
Measuring 40mm diameter ~ a little over 1.5″
Choice of settings ~ Lapel Pin or Pendant with 24″ chain
We will be at Cedar Key during the Pirate Invasion and will be the Official Seller of the 2017 Cedar Key Pirate Invasion Medallion, but Alas, we can only make so many pins to bring with us.
So, we wanted to offer you good mates a chance for pre-festival orders now! Don't be disappointed when you come by the Pewter Pirate's tent and find all this fine festival booty has been Plundered! AVAST! Get your order in now ~ and for a Plunder of a pre-Invasion discounted price!
This is a once and then gone (after the Invasion is done) Commemorative Pin/Pendant.  Commissioned to be designed and finely handcrafted by Pewter Pirate.  This is a high quality, unique piece of Pirate jewelry for sure!

Pre-Invasion Pin and Pendant orders are now shipping and should arrive within 3-5 days after placing your order.
This Sale Will End November 20, 2017!!!!
Who among us doesn't like a little stealin' & dealin', so PRE-ORDER YOURS TODAY for the special pre-invasion price of $25!  Onsite at the festival they will be $30.
AND IF THAT BE NOT ENOUGH STEALIN' & DEALIN' FOR YOU ~ Order $50 or more Cedar Key Pirate Invasion Medallions ~ or any of Our Other Fine Pins/Pendants  ~ and get SHIPPING FOR FREE straight to your Home Port!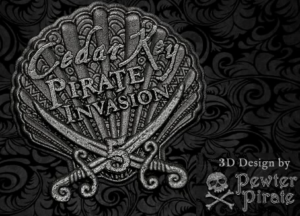 Special pre-invasion price – $25
(thru November 20)
ORDER NOW $25
VIP ORDERS ONLY $15
(coupon code required)
ATTENTION ~ VIP SPECIAL OFFER
USE YOUR COUPON CODE TO ORDER YOUR 2017 CEDAR KEY PIRATE INVASION PIN/PENDANT AT A SUPER DISCOUNT BEFORE NOV. 20!
VIP coupon codes will be sent to you when you purchase your VIP tickets. Use your coupon code during the checkout procedure for an extra $10 off the sale price ~ only $15!  That's 50% off the regular price $30!!!  Not a VIP ticket holder?  We can fix that, sign up for a VIP Pass first, then come back and order your medallion. (Please note: Coupon codes will not be accepted at the festival.  You must place your order online before Nov. 20).
BUT WAIT…. THERE'S MORE!
Order your pin or pendant now, and then stop by the Pewter Pirate Booth at the Invasion, and receive an additional $5 off any pin or pendant when you show up wearing your CKPF "5" booty.