2016 Entertainment
Musical Performers: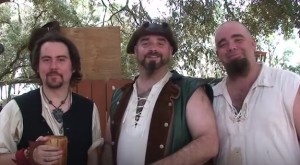 Bawdy Boys – They're baaaack! This band mixes Old Irish songs and tales from the sea to bring a unique blend of comedy and music to any event. During the day you can find them in the new entertainment pavilion in the park, playing G and PG (Family friendly) music. Friday night they will be playing at the "Parlay with Pirates" party, where they will close the evening (10:00pm) with their unique "Bawdy" Entertainment (R) (NC-17) brand of music.
Listen on: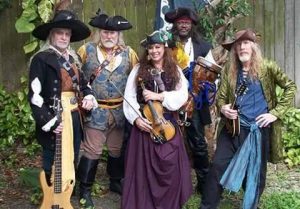 The Rusty Anchors The RUSTY ANCHORS! With James Knowles lead singer… Reuben Morgan, vocals mandolin and guitar… Angelina Morgan, bodhran, fiddle, and tin whistle… Anthony Brisband percussion… and Mark Wood on bass. Pirate and Celtic music. They will be performing during the day at the entertainment pavilion in the park, and open Friday Night at the "Parlay with Pirates" Party.  You can also catch Reuben and Angelina at Thursday night's Pusser's VIP Night at 83 West where they will play a mixture of sea shanty's and island music for your entertainment.
Listen on:

---
Fire Performers
This year we have booked not ONE, but TWO fire performers! They will be performing in the park Friday and Saturday nights, at sundown, before the nightly festivities start. You're sure to be entertained by some of the best fire spinners and performers in the state of Florida.
---
Other Entertainment
We are planning a lot of other activities to keep everyone from the littlest powder monkey to the oldest salts entertained.  Here is some variety for ye: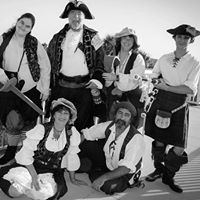 ARRR, ink
– A show, dedicated to the sea, the GAoP and the Sweet trade, this group is geared toward children, but adults find them just as entertaining.  We are excited to have them aboard for our adventures this year!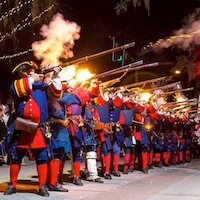 St. Augustine Garrison
– The Saint Augustine Garrison is a group of re-enactors who portray the life and times of the Spanish soldiers and their families in 1740s Colonial Spanish Saint Augustine.  At Cedar Key, a contingent of soldiers will be on hand to help defend Cedar Key during the epic Pirate Battle.  Throughout the day you can tour their historically accurate encampment and watch them perform musket drills and parade salutes throughout the day.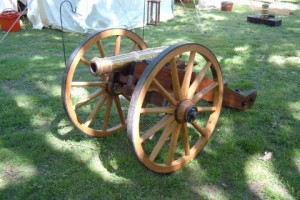 John Krol – Pyrotechnics
– John Krol is a world-class pyrotechnics expert serving venues such as Universal Studios & Seaworld.  A member of Southeast Reenactors, LLC and owner/operator of John of All Trades and Productions, Inc., John will be bringing two 6lb field artillery cannons to defend Cedar Key during the Pirate Battle.  He will also be conducting cannon drills and salutes throughout the day in conjunction with the St. Augustine Garrison.
---
Friday:
---
The Rusty Anchors

Pirate Band
1:00pm
Gazeebo
St. Augustine Garrison &
John Krol
Weapons Demo
2:00pm
Encampment
Bawdy Boys
Pirate Band
2:30pm
Gazeebo
Arrr, Ink
Pirate Show
3:45pm
Gazeebo
St. Augustine Garrison &
John Krol
Weapons Demo
4:30pm
Encampment
The Rusty Anchors/Bawdy Boys
Pirate Band
5:00pm
Gazeebo
Bawdy Boys
Pirate Band
6:15pm
Steamer's
Fire Performers
Fire Show
8:00pm
City Beach
South Mouth (Cliff & Colby)
Southern Rock
8:00pm
Big Deck
Parlay with Pirates –
w/The Rusty Anchors & Bawdy Boys
Pirate Band
8:00pm
Island Room @ Cedar Cove
(Ticketed event, 21+)
---
Saturday:
---
Arrr, Ink
Pirate Show
11:45am
Gazeebo

Ken Walker

Country/Rock
12:00pm
Steamer's
The Rusty Anchors

Pirate Band
12:45pm
Gazeebo
TJ Brown
Classic Rock
1:00pm
Big Deck
Bawdy Boys
Pirate Band
3:15pm
Gazeebo
Mike Allen
Country/Rock
3:00pm
Steamer's
Arrr, Ink

Pirate Show
5:45pm
Gazeebo
St. Augustine Garrison &
John Krol
Weapons Demo
5:45pm
Encampment
Pub Sing
Sing-a-long
6:30pm
Gazeebo
Fire Performers
Fire Show
8:00pm
City Beach
Faster than Flash
Classic Rock
8:00pm
Big Deck
---
Sunday:
---
Rusty Anchors
Pirate Band
10:30am
Gazeebo
St. Augustine Garrison &
John Krol
Weapons Demo
11:15pm
Encampment
Bawdy Boys
Pirate Band
11:45am
Gazeebo
Arrr, Ink
Pirate Show
1:00pm
Gazeebo
Moondog
Local Talent
1:00pm
Big Deck
Rusty Anchors

Pirate Band
2:00pm
Gazeebo
Bawdy Boys
Pirate Band
3:00pm
Gazeebo
(Line ups and times subject to change)