Entertainment
Musical Performers: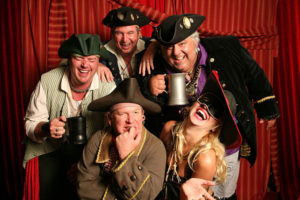 Rusty Cutlass is the worlds most notorious pirate band and has played more festivals, corporate and international events than there is time to mention. If you are lookin' for a one of a kind pirate band then look no further. You want Rusty Cutlass. That's Rusty with an ARRRRRR!!!! (Official Disney Pirate Band)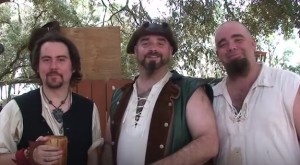 Bawdy Boys – They're baaaack! This band mixes Old Irish songs and tales from the sea to bring a unique blend of comedy and music to any event. During the day you can find them in the new entertainment pavilion in the park, playing G and PG (Family friendly) music. Friday night they will be playing at the "Parlay with Pirates" party, where they will close the evening (10:00pm) with their unique "Bawdy" Entertainment (R) (NC-17) brand of music.
Listen on: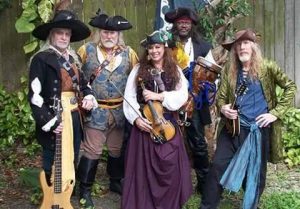 The Rusty Anchors with James Knowles lead singer… Reuben Morgan, vocals, mandolin, and guitar… Angelina Morgan, bodhran, fiddle, and tin whistle… Anthony Brisband, percussion… and Mark Wood on bass. Pirate and Celtic music. They will be performing during the day at the entertainment pavilion in the park, and open Friday Night at the "Parlay with Pirates" Party.
Listen on:

---
Fire Performers
This year we have a troupe of fire performers! They will be performing in the park Saturday night, at sundown, before the nightly festivities start. You're sure to be entertained by some of the best fire spinners and performers in the state of Florida.
---
Other Entertainment
We are planning a lot of other activities to keep everyone from the littlest powder monkey to the oldest salts entertained.  Here is some variety for ye: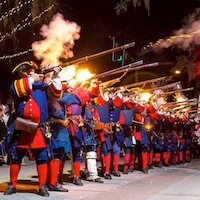 St. Augustine Garrison
– The Saint Augustine Garrison is a group of re-enactors who portray the life and times of the Spanish soldiers and their families in 1740s Colonial Spanish Saint Augustine.  At Cedar Key, a contingent of soldiers will be on hand to help defend Cedar Key during the epic Pirate Battle.  Throughout the day you can tour their historically accurate encampment and watch them perform musket drills and parade salutes throughout the day.