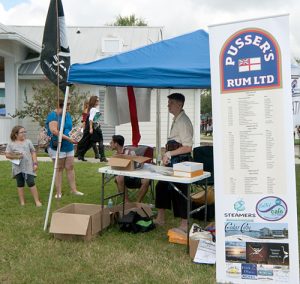 The Info Booth will be located in the main pavilion in the park to make us easier to find!
Pirates will be manning the booth during the festival hours to help answers questions, give directions, and generally be entertaining.  On Saturday we will also have the Pirates' Plunder auction items on display, so you can get a good look before the auction later that night.
There will also be a Lost & Found area at the Info Booth, so we can try to hook up items (or people) that manage to get separated during the festivities.
Purple Armband Brigade – look  for pirates/wenches with a purple arm band.  These are our dedicated volunteers and deck swabs.  If you have a question or need directions, ask one of them!
Services Available:
Lost and Found (items, people, doubloons… )
Check out all the valuable treasure available for bid at the live auction
Pick up the children's Most Wanted Poster, find all the pirates, get their signature and get a prize
Remember to tell your kids – if they get lost, go to the info booth; make that a rendezvous point
Information on local restaurants, pubs, Cedar Key directions, etc…