Parlay with Pirates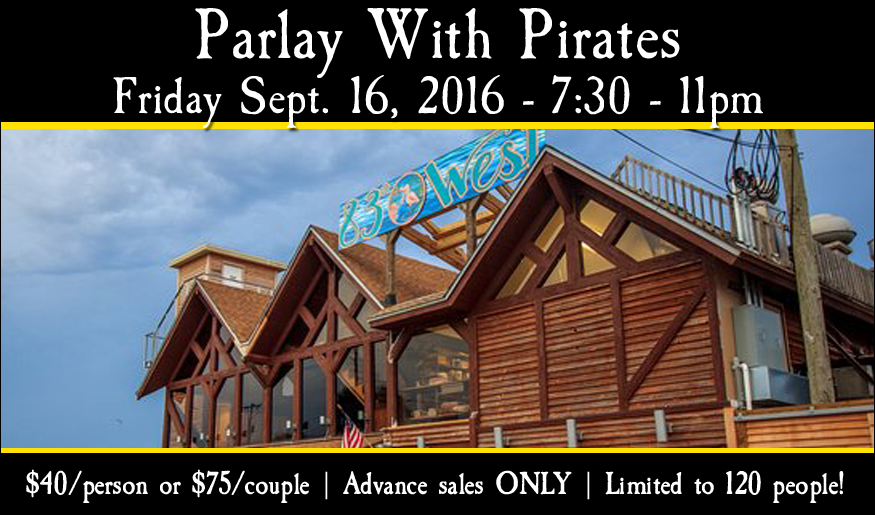 Word has it that a meeting of Pirates be happening in Cedar Key fer a Parlay on Friday evening, September, 16!
Shore leave means Food, Music, and Merriment to wash away the dull days at sea. Be ye of royal descent or just an able-bodied seamen, come dressed in yer finery to eat, drink, and dance the night away.
Due to the hurricane damage at the Island Room restaurant, we have to move the event to 83 West. The menu and entertainment will be the same.  So join us at the new location for a piratical good time!
Festivities start at 7:30pm and we'll parlay till the Rum runs out (around 11-ish or when the landlord throws us out). Enjoy the air conditioned comfort of the main restaurant. 
Tickets are available on line fer $40 a person or $75 a couple.  We are NOT doing reserved tables again this year (huzzah!) and there will be no tickets available at the door.  So order online early!
Your ticket purchase includes the following
Menu to include (but not limited to):
40lb Roasted Suckling Pig
Steamed Cedar Key Clams
Shrimp Cocktail
Roasted Fresh Veggies
One Pusser's Cocktail
and anything else the Chef decides to make that night for our enjoyment
Entertainment line-up to be announced soon…
Come enjoy the shanties of Rusty Anchors, followed by The Bawdy Boys.  The Bawdy Boys show will be rated Rrrrrr after 10:00pm!

Cash bar – fully stocked with Rum and Ale and lots of other tempting libations for your consumption and enjoyment.
Adults 21+ only please
NOTICE!  This event is now SOLD OUT… Huzzah!