Parlay with Pirates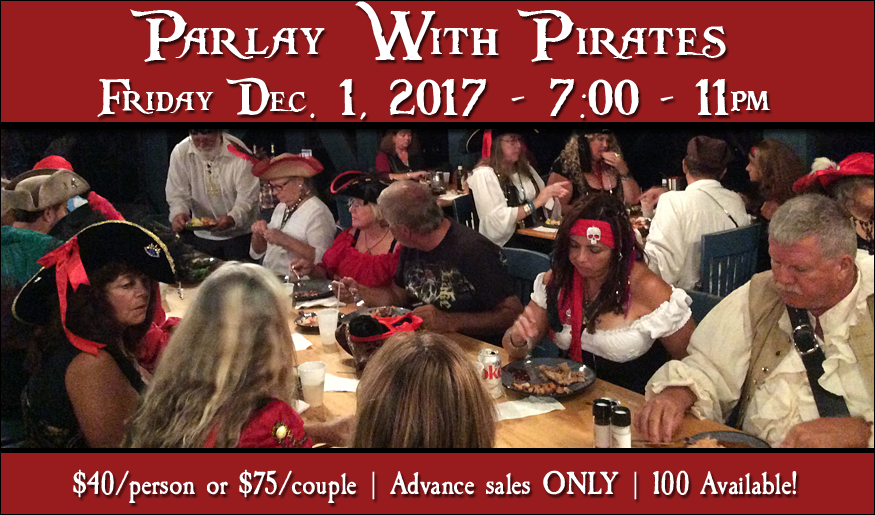 Word has it that a meeting of Pirates be happening in Cedar Key fer a Parlay on Friday evening, December, 1!
Shore leave means Food, Music, and Merriment to wash away the dull days at sea. Be ye of royal descent or just an able-bodied seamen, come dressed in yer finery to eat, drink, and dance the night away.
Peter Stefani, the Chef at Cedar Cove's Island Room restaurant (voted one of the best restaurants in Levy County), will be preparing a fabulous menu for all you scallywags.
This year we are holding the Parlay at the Cedar Key Community Center.  Those of you who attended the very first CK Pirate Fest will remember this location.  It provides a larger space and plenty of parking for cars and golf carts.  See map for exact location on 6th St. in Cedar Key.
Festivities start at 7:30pm and we'll parlay till the Rum runs out (around 11-ish or when the cops show up).
NEW THIS YEAR! We are moving the Pirate's Plunder Auction to be held at the Parlay!  The auction has previously been held late on Saturday night, which was a challenge for all involved.  So we've decided to hold it during the Parlay at a more reasonable hour!
Tickets are available on line fer $40 a person or $75 a couple.  There will be no tickets available at the door.  So order online early!
And, if that wasn't enough merriment, we will have live entertainment by your favorite pirate bands throughout the evening.  So you won't want to miss the fun!
Your ticket purchase includes the following
Sumptuous menu is being planned now. Check back for details soon…
Live entertainment will be provided by your favorite pirate bands – Rusty Anchors, Rusty Cutlass, and the The Bawdy Boys.  The Bawdy Boys show will be rated Rrrrrr after 10:00pm!

Pirate's Plunder Auction – proceeds from the sale of auction items will benefit The Children's Table.  Come see the exotic  treasures we've stolen obtained for you to bid on!
Cash bar – fully stocked with Rum and Ale and lots of other tempting libations for your consumption and enjoyment.
Tickets are limited, so purchase your tickets now, or else!  Adults 21+ only please
AVAST!  We also have a special VIP Pass available again this year, which includes both the Thursday night VIP event and a Parlay ticket for Friday night (and more!). This is a PIRATE GOOD DEAL! Two dinners, a special commemorative mug,  AND a Rum Tasting for $85! See the VIP page for details…
NOTICE!  This event is now SOLD OUT… Huzzah!
Save